Here's my secret recipe for sugar free vanilla cupcakes with strawberry geranium jam and vanilla frosting – try them, you won't be disappointed! 
Cake:
200g Nut flour
1 tsp Vanilla Powder or 1 vanilla pod, de-seeded
100g Lacuma
50g Agave, Honey or Maple Syrup
50g Water
Jam:
400g Fresh or frozen Strawberries
100g Xylitol, powdered
2 tbsp Lemon juice
6 drops, Geranium essential oil
1 Vanilla pod, de-seeded and empty pod reserved
Frosting:
300g Cashews
30g Lemon juice
75g Water
50g agave
175g Xylitol or coconut sugar – powdered
1 tsp Vanilla powder
175g Coconut oil
Method:
For the cake:
Pulse all dry ingredients in the food processor.
Add the liquid sweetener and water through the feed hole while the machine is running.
Once incorporated, about 5 seconds, turn the machine off and test the dough by squeezing a small handful into a ball. If it holds but is still slightly dry, this is perfect as this will result in a lighter dough. Also, bear in mind that you will be adding jam to it, so this will moisten the cake further.
Line a cupcake mould of your choice with cupcake papers or cling film and fill ¾ with the dough. Use your thumb and forefinger to make a hole in the center. Put to one side while you make the jam.
For the jam:
In a medium mixing bowl, combine all the ingredients and squeeze gently with your hands just to crush the berries and release their natural juices.
Put the entire bowl into the dehydrator on 115 for 12 – 15 hours or until it has reduced by ⅓ .
Put the jam to one side to cool for 15 minutes. When the jam is cool, it will be slightly thicker. Using a tea spoon, fill the hole you made in the cupcake.
For the frosting:
I suggest making this first as it needs time to set.
Combine first 5 ingredients in the vita mix and blend on high speed, using the tamper stick to keep things moving. This will be a very thick mixture.
Once smooth, transfer to a food processor and add remaining ingredients, pulsing to combine.
From here, you can remove 1 cup of the frosting and colour it pink using 1-2tsp beetroot juice and an additional 1 tbsp powdered xylitol.
Transfer frosting to storage containers and put in the fridge to set, about 2 hours. Once thickened, and you have filled the cupcake with jam, use a pastry bag to pipe a nice design of frosting on top of the cupcake.
 Amy Levin is the world's leading raw chocolatier. Her expertise in raw chocolate is unparalleled as she consistently breaks boundaries in the raw food arena. Amy is a classically trained professional chef who found her way into vegan and vegetarian raw food in 2004 while training to be a holistic health counsellor at The Institute of Integrative Nutrition. She currently te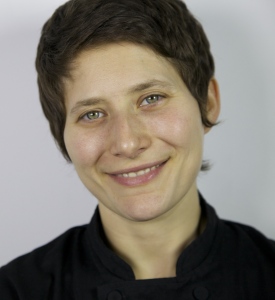 aches various raw chocolate and raw food classes in South London, and throughout the UK and North America and consults with businesses who wish to implement only the very best raw chocolates and desserts into their menu or product line. She has published three eBooks; A Passion for Raw Chocolate, Raw Fermentation (co-written with Jo Balfe) and What is Raw Chocolate? and has now released her Raw Chocolate classes as online learning courses. Contact Amy at http://ooosha.co.uk/contact