You can't rush this, so it's more of a weekend breakfast, but it's worth the effort – you'll see!
Serves 2 people or 1 super hungry human
Ingredients:
1 fresh, mature coconut
4 soft medjool dates, stones removed and roughly chopped
4 sweet, crunchy apples, like braeburn, honey crisp or pink lady
1/4 c or a small handful of almonds, soaked and dehydrated (optional)
1/4 c or a small handful of apricot kernels (optional)
1-2tsp ground cinnamon
1/4 tsp freshly grated nutmeg
1/4 tsp vanilla powder
1 scoop of your favourite protein powder, such as Sun Warrior, Vega, Whey, etc.. (optional)
2 tbsp bee pollen
2 tbsp cacao nibs
 Method:
First things first, if you didn't get pre-prepped coconut, get that coconut prepped. Go outside and hit the coconut against the ground with some force. Rotate the coconut as you do this and, in some cases, the shell will come away from the flesh and you will be left with a whole coconut inside. You can then just chop the top off, drink the water and then proceed. If that doesn't happen and the shell sticks to the coconut, no big deal, just wiggle a sharpish knife between the shell and the flesh and it'll separate easily. In most cases, you'll lose the water. Don't sweat that. No need to peel the coconut.
Chop the coconut, roughly. We're only using half for this recipe. Save the rest for snacking, treat for the dog or breakfast tomorrow.
In a food processor, blitz the coconut, almonds, apricot kernels and dates until they form a loose, chunky consistency.
Add the apple spices and protein powder, if using, and blitz again until the apple is broken down to your liking. I like it to have texture so I don't break it down beyond the size of wheatberries or so. However, if you want it to be more like a porridge, then keep on blitzing.
Serve however you want, eat it right out of the food processor (you're gonna do it, i'm just sayin' it's cool), sprinkle with the cacao nibs and bee pollen and add some nut milk of your choice… might want to drizzle with some yacon or maple syrup for good measure.
Hum while you eat, just because it makes you happy and feels good. That's what life is all about.
The main ingredients to this cereal are the fresh coconut, apple and dates. From there everything else is optional. Add new stuff, take out current stuff, make it your own and have fun with it.
Best to make and eat this the same day as the apples will oxidise and not be as fresh tasting.
Amy Levin is the world's leading raw chocolatier. Her expertise in raw chocolate is unparalleled as she consistently breaks boundaries in the raw food arena. Amy is a classically trained professional chef who found her way into vegan and vegetarian raw food in 2004 while training to be a holistic health counsellor at The Institute of Integrative Nutrition. She currently te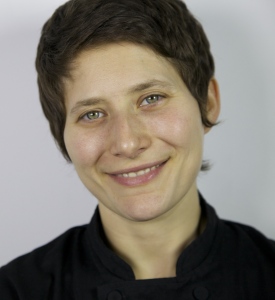 aches various raw chocolate and raw food classes in South London, and throughout the UK and North America and consults with businesses who wish to implement only the very best raw chocolates and desserts into their menu or product line. She has published three eBooks; A Passion for Raw Chocolate, Raw Fermentation (co-written with Jo Balfe) and What is Raw Chocolate? and has now released her Raw Chocolate classes as online learning courses. Contact Amy at http://ooosha.co.uk/contact