Have you ever made something and thought you were the first ever to discover this thing? I mean, hand on heart, thought to yourself, 'Self, you just made something no one has ever made. You are more of a rock star today then you were yesterday at this exact time?' Well, this tends to happen to me. When I first made kale chips, I was like, 'Holy crap, I must tell the world!' turns out, the world already knew about them a few times over. Whoops. So, in an attempt to make something chocolaty, but not excessively high in fat, I made sugar free chocolate truffles last night with 4 ingredients and the most wicked of all, black beans. Serious. The beans give the best consistency and replace using avocado (for those of you who have used avos in the past) therefore reducing the fat and making it feel a lot less rich and heavy. Give them a go and I promise you will dig them.
Ingredients
1 tin of black beans (240g drained or 400g with brine)
50g xylitol or coconut sugar
1 dropper full sweetleaf stevia
1/2 cup or 50g coconut oil, melted or same amount of cacao butter, melted
50g-70g cacao or cocoa powder
1 tsp tamari
2 tsp vanilla powder or 1 tsp extract
Method
Open the black beans and pour the contents into a small pan and warm them through
Sieve the liquid from the beans and transfer the food processor or high speed blender
Add remaining ingredients and process until smooth and creamy. If you have a low quality food processor, then you will have a slightly inconsistent texture, but it'll still be epic
Taste the mix and see if you want to add more cacao powder (or cocoa powder) or sweetener… everyone is different so you may want them darker or sweeter than me
Transfer to a bowl and pop in the fridge to set, about 30 minutes or so
Once set, roll into balls in the palm of your hand (if the mix is rather firm, it'll loosen when you begin to roll them)and then into a small bowl of cacao or cocoa powder to coat
Pop back in the fridge to set and that's all!
Amy Levin is the world's leading raw chocolatier. Her expertise in raw chocolate is unparalleled as she consistently breaks boundaries in the raw food arena. Amy is a classically trained professional chef who found her way into vegan and vegetarian raw food in 2004 while training to be a holistic health counsellor at The Institute of Integrative Nutrition. She currently te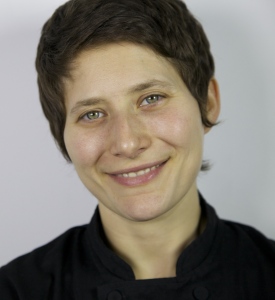 aches various raw chocolate and raw food classes in South London, and throughout the UK and North America and consults with businesses who wish to implement only the very best raw chocolates and desserts into their menu or product line. She has published three eBooks; A Passion for Raw Chocolate, Raw Fermentation (co-written with Jo Balfe) and What is Raw Chocolate? and has now released her Raw Chocolate classes as online learning courses. Contact Amy at http://ooosha.co.uk/contact