We asked leading Hollywood makeup artist Gigi Shaker…
I was the kid at school who was always given nicknames. Most were cute but the ones that stuck with me were the cruel ones intended to make the other kid's laugh – 'flat face', and 'pancake head' were particular favourites and, although maybe apt at the time, fuelled an obsession in me. I wanted to understand and fix what it was that others found different and funny. So at the tender age of sixteen I immersed myself in the world of beauty, first as a hairdresser and then as a make-up artist, in a quest to fully understand what beauty was and how I could create it. 
As I perfected my make-up skills, my mission became to iron out the flaws in every face that sat in my chair. Creating a smoke and mirrors effect requires minimizing imperfections and defining the pretty features so that they become visually striking. It sounds formulaic, but I've never worked on a face that doesn't look instantly better with an even, luminescent skin tone, a hint of blush on the apples of the cheeks, pumped up lashes and a perfectly arched brow – these ingredients ensure that the face you present to the world is the best version of yourself. Creating natural beauty isn't about changing your face; it's about putting your best face forward, the freshest most radiant you.
When I'm making up a face, my main goal is to give skin the luminescent quality it needs to look fresh and alive. Skin is an instant cue to others about the health of the body. It silently tells people if we are not getting enough sleep, if we are dehydrated or eating poorly & generally not taking care of ourselves. It also tells potential mates if we are healthy and of child bearing age. 
Youthful, healthy skin is plump, it's radiant, it has a natural sheen in certain places that reflects the light and is vibrant with a hint of natural blush. It has a subtle glow. It is the skin that I spend the most time perfecting with make up when someone is in my chair. 
I've worked in the beauty industry for more than two decades and I've applied make-up to some of the most beautiful women in the world. When I work I am part of a team – there is a stylist who brings the most incredible clothes, a photographer that knows how to create the most flattering light but the final piece of the puzzle that carries our team effort to the finish line is the energy that our subject brings to the table. If she is radiant from within she has the "it" factor, that star quality that we assume differentiates Hollywood stars from the rest of us.
To me, beauty is a radiance that we all possess. When we live in the moment and truly love what we do, our radiance becomes unstoppable. Radiance is the energy we communicate with, the glow we emit and the life force within us that exposes our inner beauty to the rest of the world.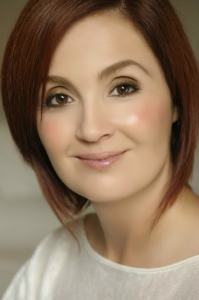 Gigi trained as a technical haircutter with Vidal Sassoon in London when she was sixteen years old. She worked with the Vidal Sassoon team for more than seven years, working as a show team member and teaching at the Bond Street School. She left the Vidal Sassoon team to study make-up at The London College of Fashion and quickly launched her career as an international freelance artist. She currently divides her time between New York, London & Los Angeles. Her work has appeared all over the world, from the catwalks of London, NY & Milan, the billboards of the U.S. and Australia to the red carpets of Hollywood. Her clients include celebrities and household names: Queen Noor, Al Gore, Drew Barrymore, Calista Flockhart, Jennifer Grey, Raquel Welch, Bruce Willis, Sean Bean Christina Perri and Vin Diesel to name a few. Contact Gigi Twitter: @gigishaker Instagram: gigisuperb Email: [email protected]